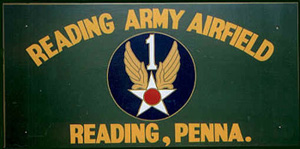 Operation: The Mid Atlantic Air Museum's 15th Annual World War II Weekend June 4-5-6, 2004
Mission: Provide an on site display of Maintenance of Radio Equipment. Display to be "Hands ON"
Personnel: KA3AIS, N3TPM
OL: Reading Army Airfield A.K.A. Reading Regional/Carl A Spaatz Field.
Background: World War II weekend is the largest W.W.II commemoration event in the US. It has been hosted by Mid-Atlantic Air Museum in Reading, PA and has been held on the first weekend in June every year since 1990. They take over "Spaatz Field" and recreate 1944 with "a total immersion event". There are 1000's of re-enactors representing all the combatant's - Allies AND Axis. In addition to the encampments, vehicles and flea-market, there is an air-show featuring some of the rarest of flying W.W.II aircraft. This year it included the B-29, P-38 and Spitfire aircraft.
NOTE: All photos and most of the comments on these pages are by Bill, KA3AIS and Craig, N3TPM. Their effort at Reading to provide the public a view of W.W.II radio equipment and its maintenance is outstanding and they deserve a lot of credit. Many logistical problems were solved with detailed planning and preparation resulting in a top notch display. The bulk of the equipment came from N3TPM's collection and additional material came from Terry, N3GTE and Paul, WA3GFZ. Many of us have this equipment buried in our storage areas and it never sees the light of day.A recent trend here on the East Coast is to set up and operate military equipment at Ham Fests and to have Dayton style nets on 51.0 Mcs and 3885 Kcs. A link to the MRCA Gilbert show is on page three where many collectors will display and "operate" their equipment this fall.
.