READING PAGE 2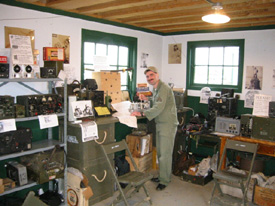 Bill, KA3AIS, works on an ARC-5 transmitter at the bench
Craig, N3TPM, works on a BC-611 at the bench.
Among the radios featured at the display were:: ARC-5's, ART-13, BC-348's, BC-611/SCR-536, BC-1000/SCR-300, BC-654, BC-659, BC-1206, BD-71, TBX, TBY, TCS-14, Wireless Set No. 19.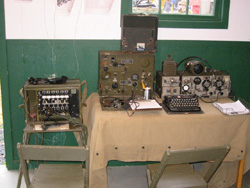 BD-71 telephone switchboard, BC-654, Wireless Set No. 19 with Antenna Matcher and Power supply. In front of the No. 19 set is a Remington Portable (typewriter). This position was set up to copy CW messages/traffic or for cranking out the paperwork. The canvas tablecloth is half of a 1922 Army "pup" tent.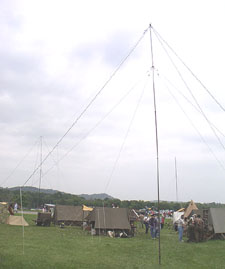 The Canadian re-enactors had a superb antenna farm. An excellent ladder-line fed antenna setup between 2 tall masts.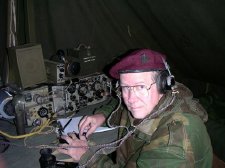 Chuck, W1HIS uses the Wireless Set No. 19 and it's cousins. He's part of a Canadian/Commonwealth re-enactors group.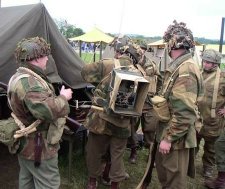 Paratroopers secure a Wireless Set No. 18
Page 3