READING PAGE 3
Attendance was record breaking on all 3 days - even in the rain Saturday. In the sun, the building offered a cool spot to sit and talk about radios, on Saturday, a dry spot to duck in out of the rain and 'use your cell phone'. We operated as a "hands-on" display. Parents told their kids "not to touch": We allowed them to check out everything. Under supervision we allowed everyone to tune in radio signals; feel how heavy a BC-611/SCR-536 is to carry on your shoulder; and bang away at our Remington Portable manual typewriter. The most popular display was the BC-611 and other 'portable' radios - the BC-1000 battery alone struck fear into the hearts of our guests. The most asked questions: "Can you still get vacuum tubes?" and "Does all this stuff work?"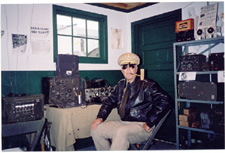 Speaking of guests General MacArthur honored us with a visit and provided an excellent photo opportunity for our guests.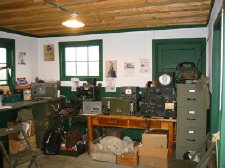 TCS-14, Minerva TropicMaster (morale RX), BC-603/683, Echophone EC-1 (morale RX), BC-348-Q, ART-13, BC-1000/SCR-300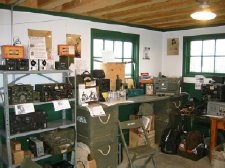 The open ARC-5 transmitter chassis was popular with guests. Many had never seen vacuum tubes before. The cigar boxes have tubes and other misc. parts inside - they are vintage with W.W.II patriotic stickers. The bench includes meters, a tube tester and a signal generator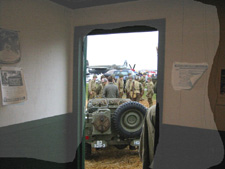 Its hard to get any work done with all the distractions . . .A view out our front hut door: The Jeep was originally assigned to the 83rd Infantry - the same group as 'our' re-enactors.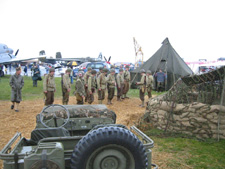 On the right is the machine gun emplacement, just past it is the unit Command Tent. In the background is a P-51 Mustang, B-24 Liberator, C-47 Skytrain/Dakota, B-25 Mitchell and B-29 Superfortress. (The modern truck is performing emergency service...)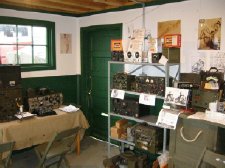 On the top shelf are ARC-5 receivers and a BC-1206. Below are the TBX and TBY, BC-348(), BC-659 and misc. spare parts.
Note: by Bill, KA3AIS. "I don't think we took any pix of our antennas; or of me "enlarging" a slight crack in the seam of the other barracks so we could run phone lines; or of the afternoon we spent digging trenches so we could bury power cables going from the main museum hanger to the 2 barracks... there were all sorts of critters in that dirt. . ."
Doesn't matter Bill, Mission Accomplished and Job Well Done.
NOTICE: The next MRCA meet will be held at Gilbert PA in conjunction with the Red Ball Military Transport Annual Rally. This is a golden opportunity for anyone interested in vintage military electronics. Activities will include equipment displays, on-the-air operation, formal presentations, and a swapmeet.